Tennis Los Cabos
Tennis in Los Cabos - There are many courts avaiable @ Palmilla Tennis Club, La Huerta, Pedregal and many other locations.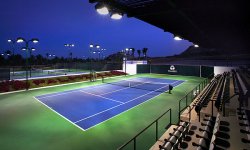 Palmilla Tennis Club is a unique, world-class facility—the only one of its kind in the greater Los Cabos area.
PTC has been voted as the number-one tennis destination in Baja by readers of Baja Traveler magazine. In addition the the American Sports Builders Association has bestowed an award to Palmilla Tennis Club as one of the top new tennis clubs in North America.
Contact Information:
Name: Gerry Burchard Gonzalez
Local Phone: 624-355-4149
US Phone: 925-683-7910
Toll Free Phone: 888-857-3960
Website: http://www.palmillatennis.com